The Launch Box (SOLD OUT)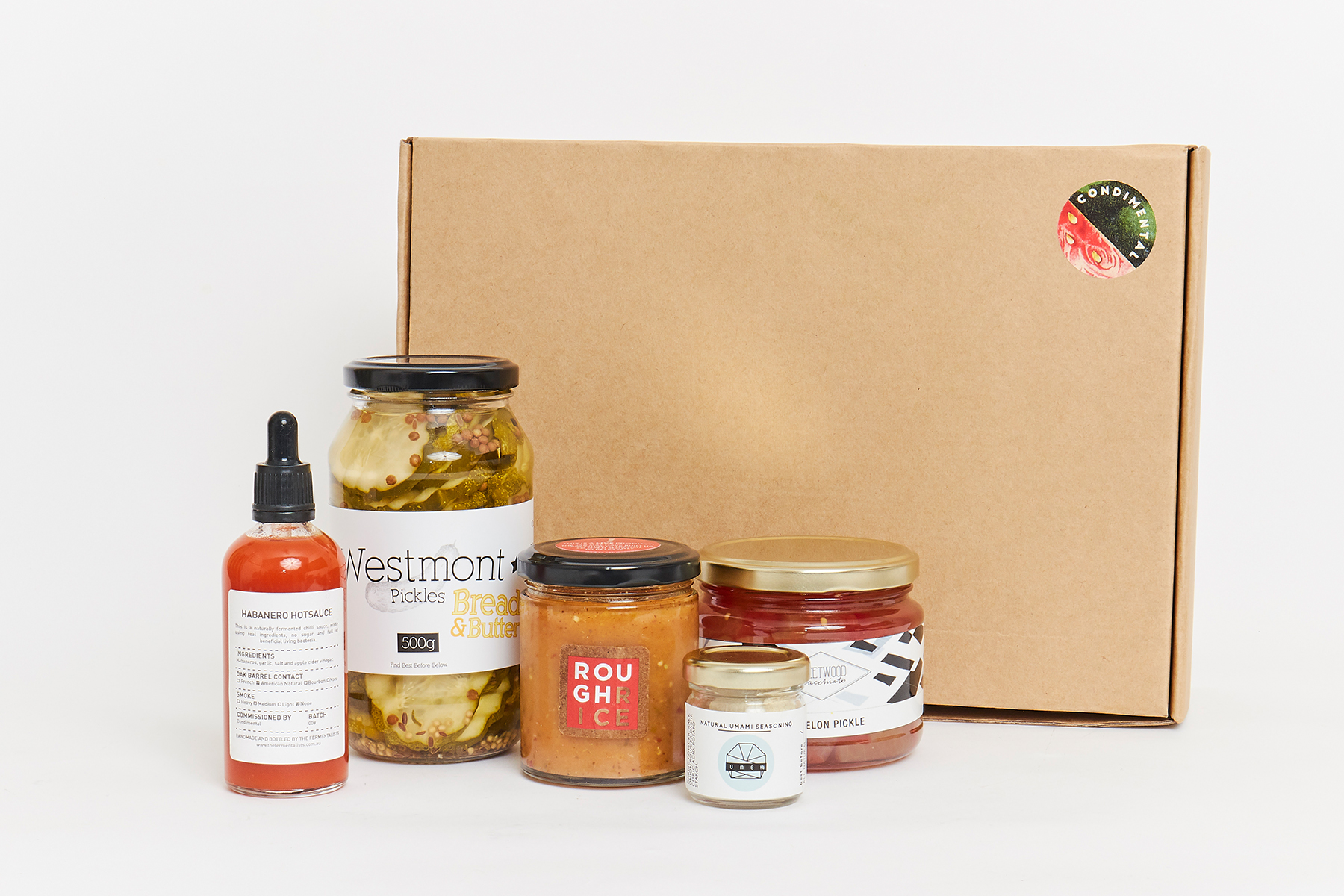 The Launch Box (SOLD OUT)

Sending as gift? Let us know in the order comments and we'll write them a message!
Five exciting and versatile condiments from people who really know what they're doing.
Ideal for cheese boards, sandwiches, roast meats, salads, fried rice and pizza, to name a few.
sold out
Fermented Tomatillo Salsa Picante - Rough Rice, Hobart
Wild, lacto-fermented organically grown tomatillos and heirloom tomatoes from Tasmania, left to age for 7 months and blended with 'The Mothership' rocoto chili and Koshikihari Koji. The flavour is intense and complex, and really rather spicy. Use on tacos and next-level your Bloody Mary while you're at it.
Watermelon Pickle - Fleetwood Macchiato, Erskineville NSW
Like sour cola bottle lollies, this summer's juicy watermelon rinds have been cooked down to a gelatinous consistency. It's best found on a cheese board or cutting through other savoury items, but you can blend it up with sweet things too to give it a zesty lift.
Habañero and Oak Hotsauce - The Fermentalists, Sydney
This is a potent, few-drops-will-do sauce but you're forgiven for spicing yourself out if you just wanted more of that flavour. The ferment is fresh and vibrant with new-season habañeros. Is it weird to call a hot sauce juicy?
Bread and Butter Pickles - Westmont, Caringbah NSW
It was serious business tasting many pickle options before choosing what was to go in the box. These pickles won the contest because they had a clean flavour, retained a good crunch and exhibited the best balance of sweet to sour. The coriander seeds are also a welcome addition.
Umami Seasoning - Ume Burger, Sydney NSW
This is our bonus gift for first time box buyers. It's an addictive umami salt from Kerby and the crew at Ume. Ume is a very good fine dining restaurant which evolved into classy burger joint. Put the seasoning on fries.